Animals feature prominently in the Bible. Animals of the Bible: A Picture Book collects passages from the King James Bible, selected by Helen Dean Fish, that relate to animals, and pairs them with illustrations by Dorothy P. Lathrop.
For children's literature, two awards are preeminent: the Newbery Medal, first awarded in 1922, for children's literature; and the Caldecott Medal, first awarded in 1938, for picture books. Each has been awarded to some truly outstanding literature, over the years.
It has also, apparently, been awarded to some less-than-excellent books.
Animals of the Bible is less of a picture book, and more a series of drawings, each with an (extended) epigraph selected from the Bible. One can hardly criticize the quality of a set of Biblical quotations, each at most, perhaps, a dozen verses together, but it can be said that the text certainly forms no story, nor teaches anything in particular, nor has any coherent theme. It's more what I would expect from a Bible-themed calendar than a Caldecott winner.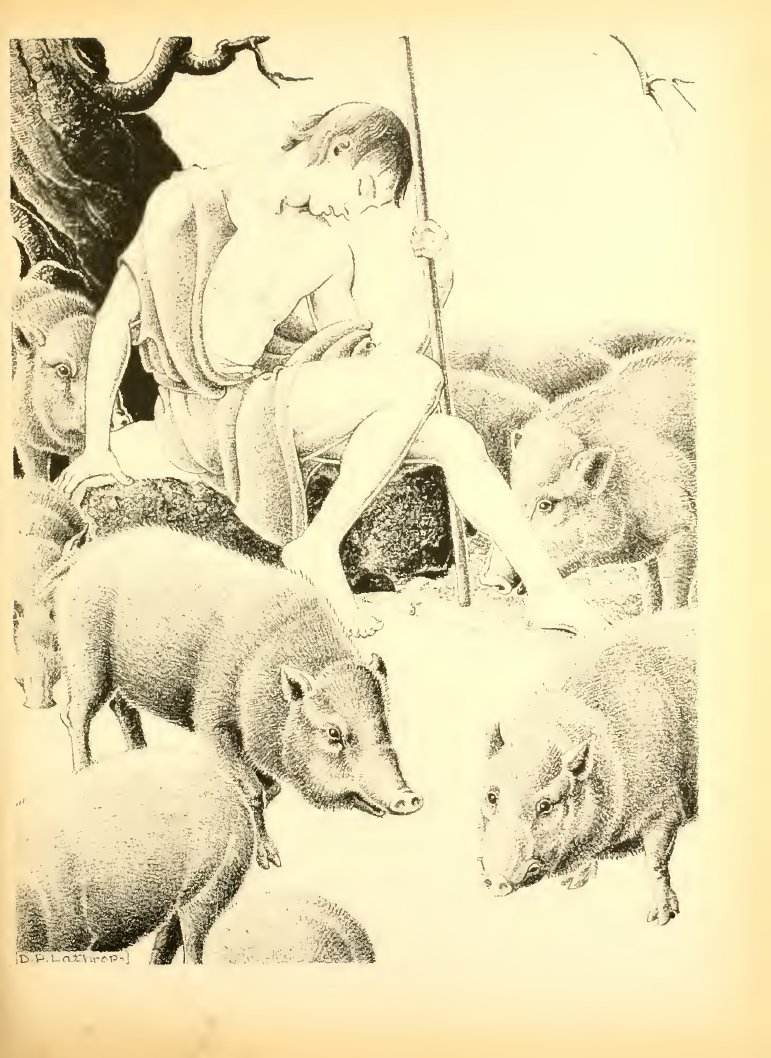 Even the illustrations are something of a mixed bag. The animals are, as the introduction insists, generally relatively lifelike. The humans, though... well, just look at them. The prodigal son, there, looks as flat and oddly-posed as a thirteenth-century Madonna. Worse, really--especially in comparison to the substantially more realistic swine.
I suppose it was overly optimistic of me to assume that this book must be very good, just because it was a Caldecott winner--particularly since it was the first Caldecott winner. It's remained in print, all these years, on strength (I imagine) of that award. But it doesn't measure up to its successors.