Night Mission Pinball supports up to four players, and can be controlled with either the keyboard or a joystick. The controls are responsive, and the movement of the ball is pretty decent, for an old game.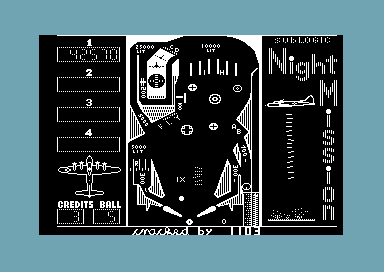 Old 2D pinball games often feel like the ball is just sliding around, influenced by the objects on the screen, but not really bouncing off them. There is a little of that feeling in Night Mission Pinball, but it's not bad. If you think you could do better at balancing, you're in luck, because this is one game that will let you tweak to your heart's content.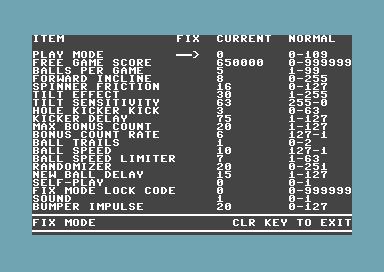 You can adjust 38 variables here, to make the game play however you like. If you're more artistically inclined, you can also adjust the colors, though your options there are a bit more limited.
Night Mission Pinball is a good game. For gameplay, it's about on par with Pinball for the NES, though its graphics aren't as good. Pinball is a year or two newer, though, so that's reasonable. The table layout is good, but it's nothing special. If you're a fan of old games, this one is competently done, but the state of the art in pinball games has advanced quite a bit, over the years, so a more modern game is likely to be more satisfying.