Space Lanes is a Commodore 64 and VIC-20 collect 'em up by Robert Alonso.
In the future, Earth is in dire need of fuel, and it's your job to pilot your spaceship through the space lanes, collecting fuel while avoiding laser fire from the invisible KOPEC robots (a reference to R.U.R., I suppose).
Like Pac-Man, you move around a maze collecting dots for points while avoiding dangers. Unlike Pac-Man, the 'maze' is just a grid, and the dangers are lasers that randomly fire across a row of the grid, left to right.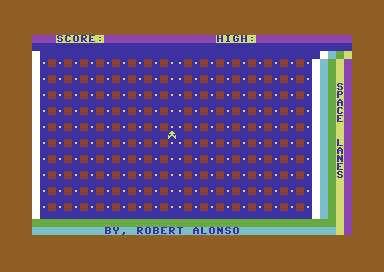 You get five points for each dot you collect, and three lives to collect them in. If you are hit by lasers three times, the game ends.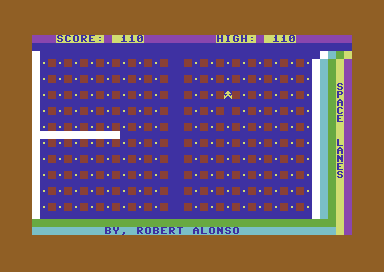 I'm not sure what happens if you manage to collect all of the dots without losing. I assume that the game will reset, probably with your current score intact, and allow you to continue collecting points.
Unfortunately, I never managed this, because I had great difficulty with the controls. The game is controlled by joystick, and it seemed that occasionally it completely ignored me moving the stick, and other times it'd move the spaceship several times very quickly. This made it very difficult to navigate the maze, since it's crucial that you not loiter too long in the rows without barriers, lest you be cooked by incoming laser fire.
Incidentally, Space Lanes was a type-in game, published in Ahoy! #3 in March 1984. You may notice that there appears to be some misalignment of the columns at the top of my screenshots. I suspect that the copy of the game I downloaded may have been typed incorrectly. I began to type it in myself to see if this was the case, but when I realized that I'd typed in several lines of the VIC-20 version rather than the C64 version, I rather lost the motivation to find out. Sorry for that.
Space Lanes is fundamentally similar to Pac-Man and a hundred other collect 'em ups, but its poor controls make it far inferior. If you're looking for a good diversion, I'm afraid Space Lanes just doesn't measure up.