Guns of Fort Defiance is a 1981 game reminiscent of Artillery, published by Avalon Hill. I played the 1982 Commodore 64 port.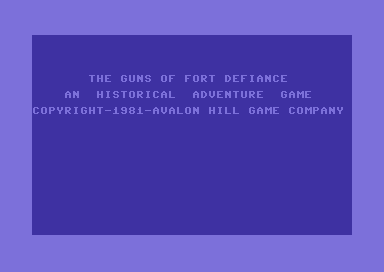 Fort Defiance, according to the game, is an incomplete fort, and you must defend its unfinished eastern wall against an invading army, by ordering that your artillery be loaded with certain ammunition, raised to a certain elevation, and fired at a certain deflection, in order to strike at the enemy.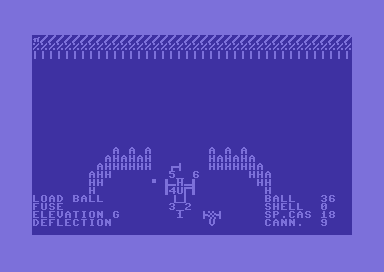 The enemy may attack with infantry, cavalry, or artillery, and you must choose the most appropriate way to defend against each attack. The game may be set to any handicap from 1 to 64, with 1 being the easiest game, and 64 the hardest. If you successfully repel the enemy, the game will suggest which handicap you ought to use on your next game--perhaps higher, or perhaps lower.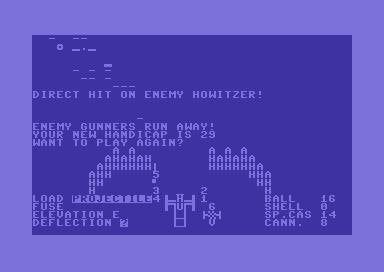 Guns of Fort Defiance is pretty fun. Each game is fairly short, and the ability to finely adjust the difficulty is very welcome. Unfortunately, the controls are not perfectly responsive. The instructions mention that it can be difficult to set the deflection, since the gun is so heavy, but I wonder if they're just covering for poor implementation. I guess it doesn't matter too much which; either it's poor implementation, and thus blameworthy, or a poor design choice, and thus blameworthy. You may decide which is worse for yourself.
The Apple II port of this game looks a little prettier--it's got color, for one thing. I'll put it on my list of games to review. Perhaps it's got better controls. Though, as I recall, plenty of Apple II games had unresponsive controls, so perhaps not.
Incidentally, it looks like there was an actual Fort Defiance during the War of 1812, now called Fort Morris, which was never completed, so Guns of Fort Defiance actually is 'an historical adventure game', as it claims.