A port of BSD Robots to the OS/2 Presentation Manager. Incidentally, I've taken the screenshots in OS/2 2.1, this time, so enjoy the increased authenticity.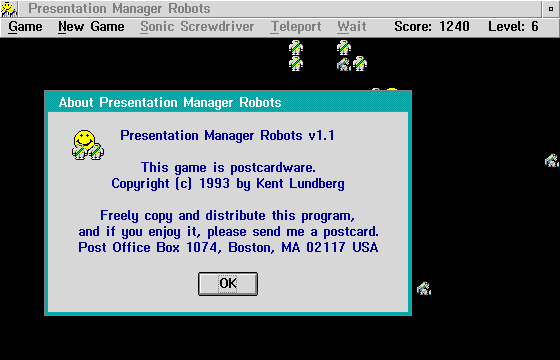 Quoting my pending MobyGames description:
Presentation Manager Robots is an implementation of BSD Robots. The player controls Smiley, who must avoid being destroyed by the Evil Killer Robots. On each turn, Smiley can either stand still or move into any of the eight adjacent positions, and the robots will move directly toward Smiley. If a robot catches Smiley by moving onto his position, the game is over. If two robots crash into each other, they are destroyed, leaving behind a heap of broken robots. If a robot crashes into a heap, it's also destroyed.

The player has two options, if the robots surround Smiley. First, the player may choose, once per level, to use the Sonic Screwdriver, which will destroy all the robots adjacent to Smiley. Second, the player may choose to teleport to a random location in the level. This is not without risk, though, since Smiley may teleport beside a robot and lose.

The level is won when no robots remain. Later levels begin with more robots.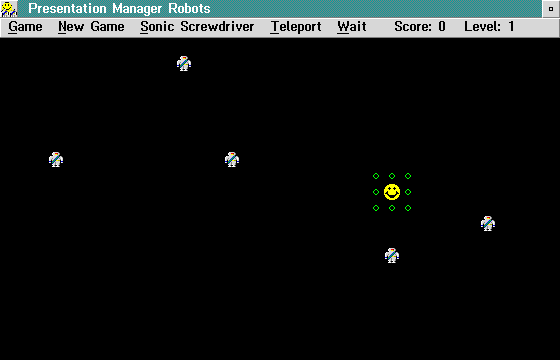 Presentation Manager Robots is a pretty standard port. It starts out easy, with just five robots on the first level, but rapidly increases in difficulty.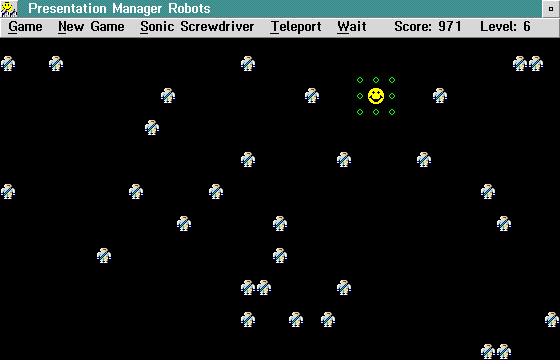 I made it to level 6 on my second try, which I suppose isn't too bad.
There's one annoyance to this port: no keyboard support. In order to move, you've got to click in the direction you want to go, and you click on Smiley to stand still for a turn. Robots is much better controlled with the keyboard, and I can't imagine why this version doesn't support that.
Other than the input issue, the game as much fun as Robots usually is. Worth a play, for sure! The game is actually still being distributed by its author, Kent Lundberg, from his homepage. It's up to version 1.3 now (pictured above is 1.1), which he released under the GPL in May 2002, about nine years after its initial release in July 1993.