Bart Regan, a federal agent, is recruited to be a spy. There's a catch, though: he must leave his old life behind, forsaking his "personal life and all thoughts of marriage". Bart has a fiancée, Sally, who he must break all ties with.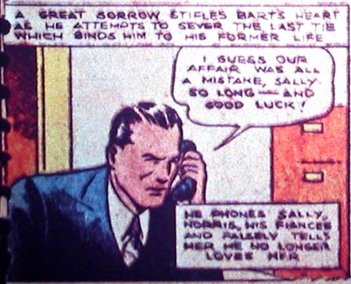 He doesn't seem all that sorrowful. Bart is tasked with meeting a female spy, Olga, "who is suspected of using her charms to worm valuable army secrets out of young officers". Sally, who intends to confront Bart about his sudden change of heart, is not pleased when she sees him trying to work his way into Olga's good graces. When the story ends, Bart is in Olga's apartment, about to be drugged, and Sally is in the street below, restrained by a taxi driver she was unable to pay, having left her purse behind when pursuing Bart.
Siegel and Shuster, of course, are most famous for the creation of Superman, who would debut in Action Comics #1, in June 1938, a little over a year after this story was published. We can see, though, a little of what would go into Superman's story, here--the hero hiding his identity, and the woman who loves him doggedly pursuing him. Unfortunately, Bart is a complete jerk to Sally; she pursues him, but why would she even want him, after what he's said and done to her? Still, it's interesting to see an earlier work by this famous duo. The four pages of this comic tell at least as much story as any of the other comics in this issue, and it's at least as interesting as the others, too.