How about another break from the long stream of science fiction? I've received a lovely children's book, today: When a Wolf is Hungry, written by Christine Naumann-Villemin and illustrated by Kris Di Giacomo. It opens:
Edmond finds an apartment building where a likely meal lives, but forgets his knife in the elevator (where it's found by another resident of the building, who was in need of a knife). No matter, he thinks, and returns to his home, this time retrieving a chainsaw. But when he gets back to the apartment building, he encounters a bear who mistakes him for a new tenant, and just so happens to need a chainsaw. Edmond lends the bear his chainsaw and returns home for yet another tool... and so it goes.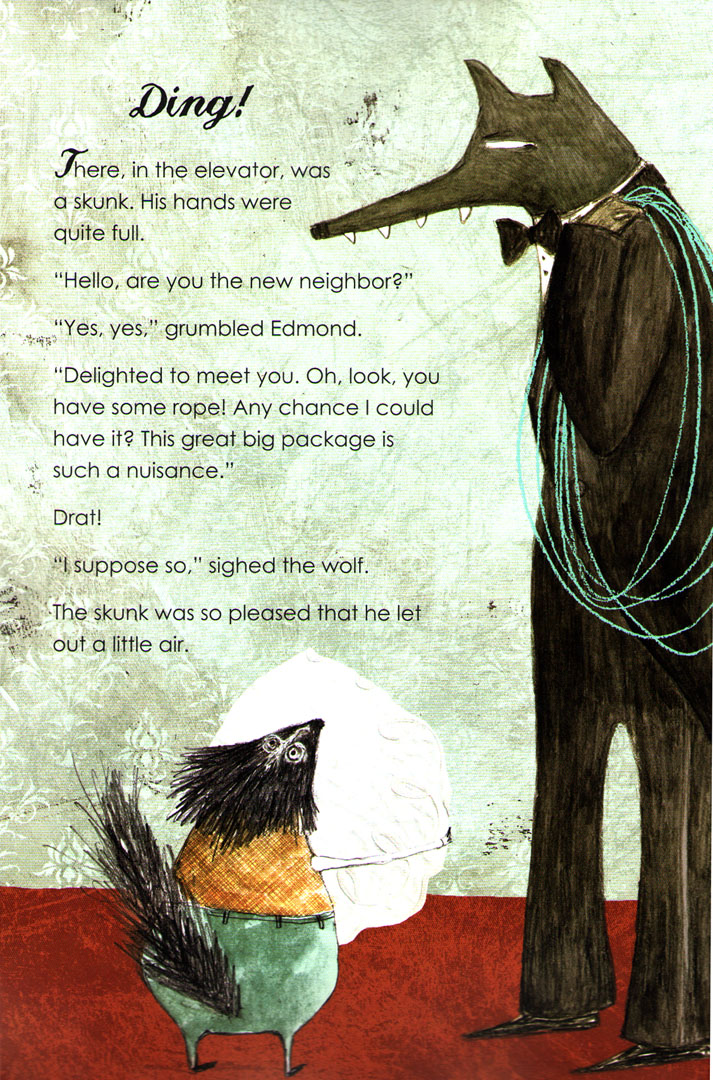 Eventually, Edmond has provided all the necessary tools for a rooftop party. If you can't beat them, join them, so Edmond moves to the city and becomes a vegetarian--and president of the Good Neighbor Association.
When a Wolf is Hungry is a fun little story. I think I've usually enjoyed stories with wolves--Walter the Wolf by Marjorie Weinman Sharmat, or The True Story of the 3 Little Pigs! by Jon Scieszka, for example--I wonder if there's some connection? The art is very nice (you can see some more samples of it on the artist's web site)--it reminds me of I Want My Hat Back, a bit--and the story is satisfying.
When a Wolf is Hungry was originally published in France in 2011, and will be published in English by Eerdmans Books for Young Readers on 2017-08-07. It is recommended for ages 4 to 8.