Achievement Unlocked by Armor Games, published in 2008, is a flash platform game and parody of metagaming.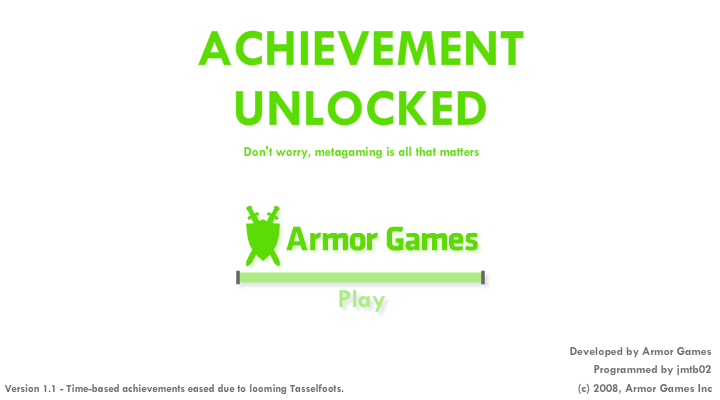 The player controls a small blue elephant on a single screen, which can run and jump and fall and die and not much else. The goal of the game is to unlock the achievements listed on the right, for which only the titles can be seen until they are unlocked.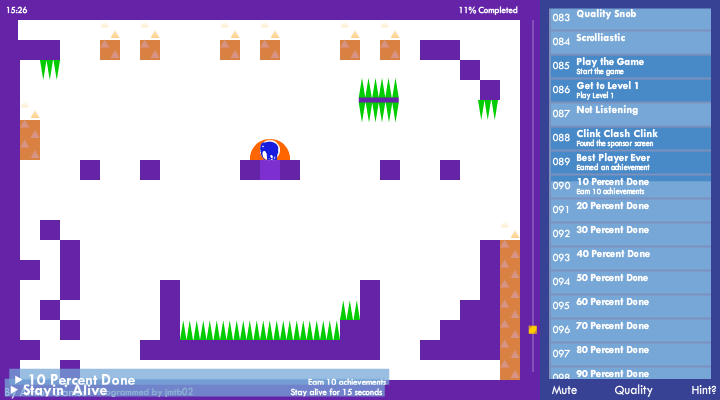 By my count, 15 of these achievements can be unlocked simply by starting the game and standing still, although it looks like one of them shouldn't be unlocked that way and is a bug. Most of the achievements can be unlocked just by stumbling around, and the way to unlock most of those that remain can be divined pretty easily from their titles and the nearby achievements. The last few that I got I had to look at the hint page for, but fortunately that's an achievement, too.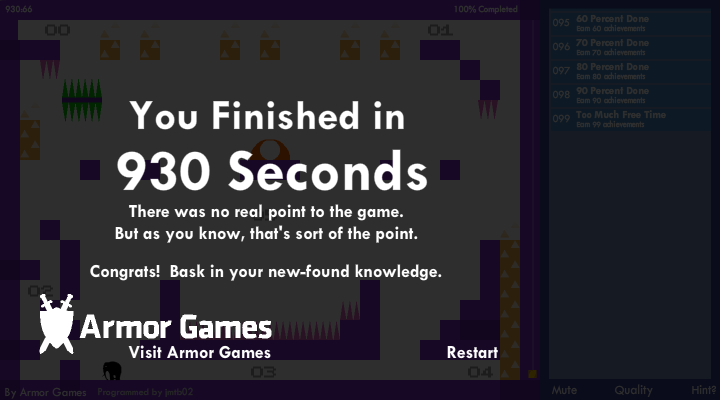 The game ends when all 100 achievements have been unlocked.
Achievement Unlocked can be played here.
Gameplay: 8/10

The controls do what you'd expect. More importantly, achieving the achievements is pretty nice. I spent about fifteen minutes on it, which wasn't long enough for me to get bored with it, so I'd say that the game is a success.

Graphics: 3/5

Even as flash games go, the graphics aren't so good, but since that's not really the point, only half weight.

Sound: 7/10

The music isn't really annoying, but it is a bit repetitive. The sound effects are okay.

Personal Slant: 8/10

I enjoyed this, especially since I'm a spade, and it didn't go on too long. Nice.

Total: 7.4/10

This game doesn't take long, and it's pretty amusing. We need to laugh at ourselves, so why not give it a shot?