A break from game reviews to look at a curio from 2001: Super Mario Advance. Wait, isn't that a game? Well...
This is Super Mario Advance by Craig Wessel (perhaps the same as the author of A Parent's Guide to Computer Games?), a choose your own adventure book based on Super Mario Advance the game (the GBA version of Super Mario USA). Hints for secrets in the game are scattered throughout the story, and it includes a tiny (seven page) game guide at the end.
The book entices the reader, in its introduction, with "This special book is more than just one story about Mario and his friends -- it's a choose-your-own-adventure book. You get to decide what happens every time you read this book!" Exciting! This freedom of choice, Wessel promises, is "the best part -- there are several endings to this book! Some are good, but some of them are bad. Every time you read it, you can make a different set of choices and read a brand-new story."
I've probably given away already by writing this that the book doesn't quite live up to its promises. As I read it, I found that I was doing a lot of flipping through the book without too many choices, and some of the choices didn't seem to have much impact. Well, I'm a suspicious sort.
I made a chart.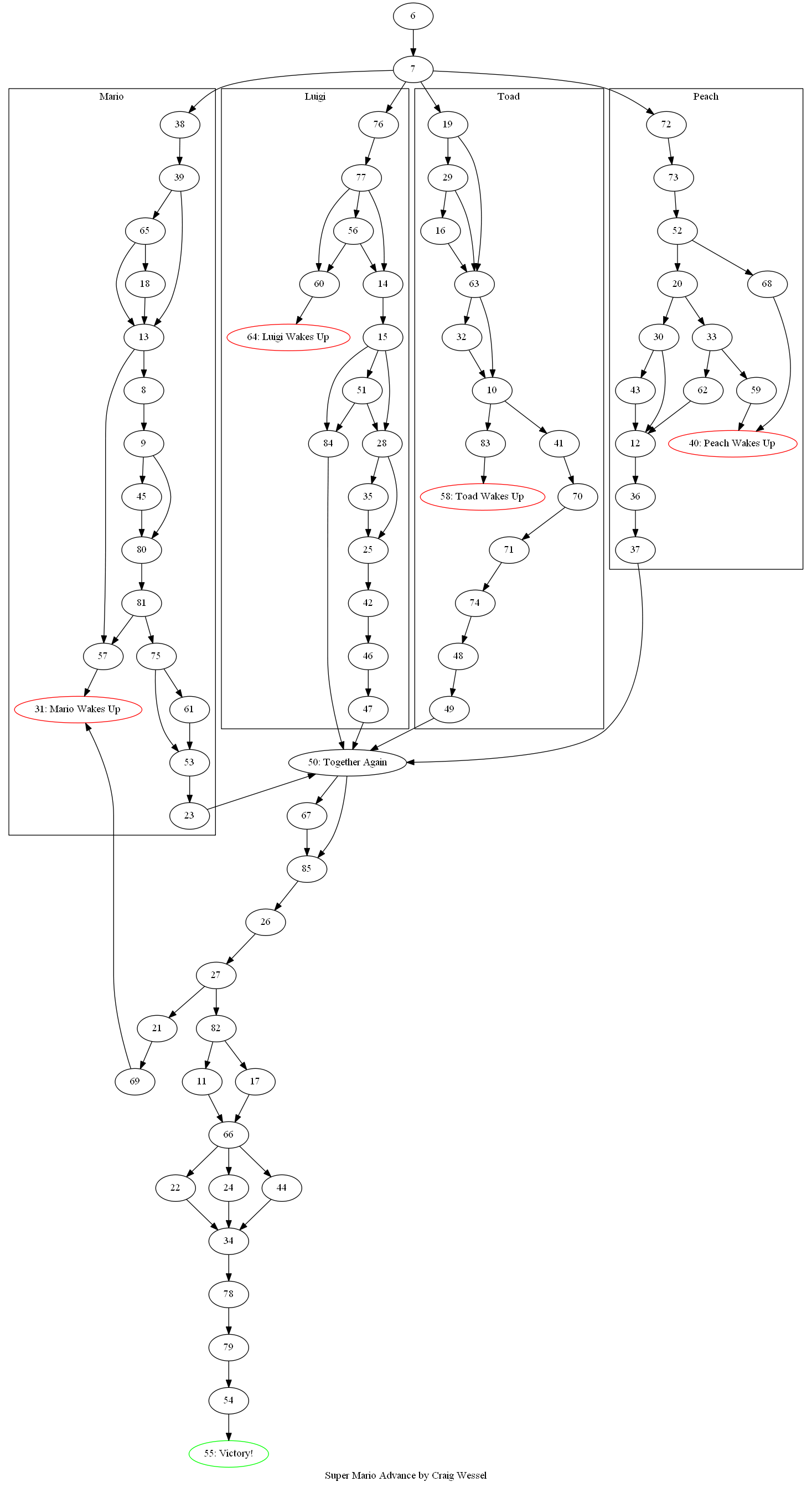 As I suspected, Super Mario Advance is as on-rails as RollerCoaster Tycoon. There aren't some good endings, there's one, plus one bad ending per character, and the whole thing is very linear, with each route joining up in the middle. Depending on your choices, Luigi's individual story is the shortest, lasting for only five pages, while Mario's could be up to fourteen pages before everyone joins up on page 50. Poor Luigi is always getting the short end of the stick.
I was pretty excited when the book promised to be a combination CYOA and strategy guide, neatly combining my interests, but this book doesn't deliver on either. The story isn't particularly good, nor is it a good example of CYOA, and the guide is fairly useless, being limited to very brief descriptions of the characters, items, and enemies. I suppose it's not surprising when an adaptation of a video game is subpar, but it's still a shame.