Naughty Mouse is a 1981 collect-em-up by Amenip.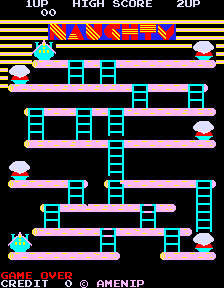 First, a point of contention: Arcade-History describes this game as a platformer, and mentions that "The player has a single button with which to make Naughty Mouse jump over [enemies]." In truth, the game is no platformer, and, as far as I can tell, has no buttons. Okay, enough about what it isn't. What is Naughty Mouse?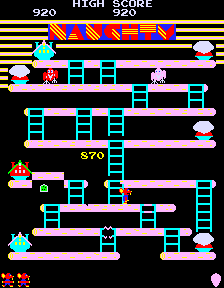 It's a collect-em-up, like Pac-Man (and, apparently, runs on the same hardware). The player controls the titular mouse and must touch the eggs on each of the houses while avoiding the birds in order to complete the level, racing against the timer. When touching an egg, the player scores the number of points remaining on the countdown timer. When the timer reaches zero, or when the player touches an enemy, a life is lost and the level is reset.
In the first level, there are five eggs to touch and two enemies.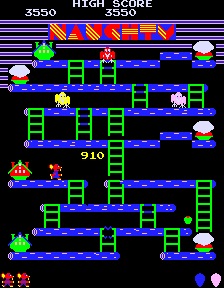 In the second level, there are three enemies, instead.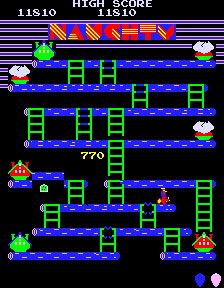 The second level is as far as I got, though. I was never very good at Pac-Man, and this game seems a bit more difficult to me. Also, I don't really enjoy this kind of game, so I'm going to call 11,810 points good enough.
Amenip also released a very similar variation of this game called Woodpecker.