Ponpoko is a platformer by Sigma Enterprises, Inc., released in 1982.
Ponpoko is a very standard ladder-and-platform collect-em-up, in which you play the titular Ponpoko, a tanuki.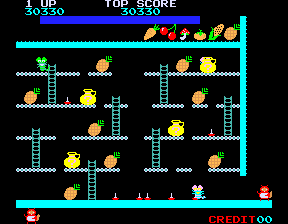 It is required on each level to collect the food while avoiding the pins (bizarrely called 'apple cores' in a flyer for the Venture Line release) and enemies (which look rather like mice but are apparently hairy caterpillars). The pots with question marks on them may contain bonus points (good!) or snakes (bad!). When you complete a level, you gain a bonus depending on how much time you used, and move on to the next level, with a different layout and a different kind of food to collect.
Ponpoko features fairly nice animation, but uninspired sound effects and no background music. It's a decent game for its time, but it doesn't stand out from the crowd.
I've recorded a sample of the gameplay: