The player controls a kangaroo whose child has been kidnapped by mischievous monkeys. Gameplay is pretty standard for arcade platformers: walk on platforms, climb ladders, avoid pitfalls and enemies while collecting bonus items; pretty much the same as Donkey Kong.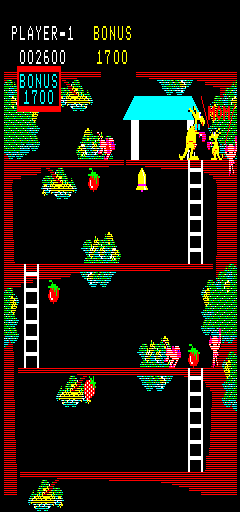 The kangaroo, of course, can jump, and is also equipped with a boxing glove, so that she can punch the monkeys that harass her on her way to rescue her child. The monkeys throw apples at her, which can be punched to return to sender.
Rescuing the child ends the level and begins the next. There are four variations before the levels replay at higher difficulty.
Kangaroo has simple graphics, music, and sound effects, on about the level one expects from a game from 1982. Its quality is comparable to Donkey Kong: decent for an old game, but nothing special these days.