Patternia is a 1992 Tower of Hanoi game published in Game On in December 1992, with programming by Henrik Holmdahl, graphics by Simon Leijnse, and music by Kaspar Dahlqvist and Jakob Hellander.
Patternia really can't be compared to any of the previous games in terms of graphics--it leaves them all far behind. The difference, I presume, is that all of the games I've reviewed up to this point, except Pyramidon, were written in BASIC, and were often type-in games, which severely limits how nice the graphics can be.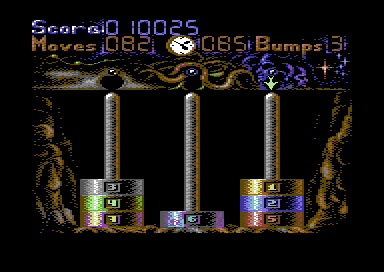 Patternia is controlled with the joystick, like Die Türme von Hanoi. In contrast to that one, though, Patternia does not animate the movement of the discs. And it's a good thing! There's a timer in Patternia, and if you don't complete the puzzle within the time limit, you lose. Even for me, it was a close thing, on each level, and I've played dozens of Tower of Hanoi puzzles in sixteen different Tower of Hanoi games prior to this, so the optimum strategy is quite well fixed in my mind.
You're given points at the end of each level depending on how much time you had left, and how many moves you used, including a bonus if you solved the puzzle optimally. I gave up on the 7-disc puzzle, but it was actually pretty fun, racing the clock.
Patternia beats the earlier Tower of Hanoi games in music as well: first, because it has music; and second, because the music is pretty good. I won't be adding it to my playlist (which contains more than enough video game music as it is), but it's not bad at all for background music.
If you've an urge to play a Tower of Hanoi game for the Commodore 64, Patternia is absolutely the best choice.