Today, a look at a game I've just added to MobyGames: Archery by Brian Blankenship.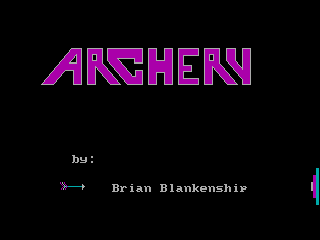 Archery is a very simple shooting game. A target descends along the right side of the screen, and you have to push the spacebar at the right moment to let fly your arrow, with the aim of hitting the target as near the center as possible.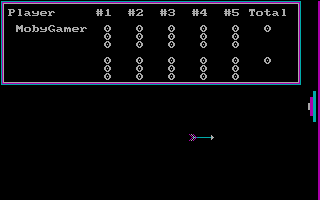 You get three shots (in a row) from each of five different starting locations, and shots that hit closer to the center score more points. You can play alone (for high scores, one assumes), against another player, or against the computer.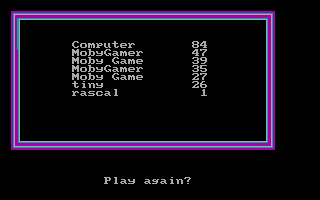 Interestingly, if you play against the computer, the computer can get a high score, too. Embarrassingly, the computer seems to be rather better at this game than I am.
The author, Brian Blankenship, wrote this game in 1985. On December 31, 2013, he posted the BASIC source code to the game on SourceForge. He posted a few comments on abandonware sites around the net. Here's what he had to say:
I am honored to find sites like this still showing this game from so long ago. I wrote this while bored, waiting to be laid off from a law firm that was splitting up. I was playing "Track and Field" occasionally at arcades, and could barely make it to the archery part, which inspired me to make this game.

Yes, it is very lame by today's standards, and in hindsight I could have made a lot of improvements. I tinkered with it while it held my interest, and released it to a few BBS's in the Indianapolis, IN area. Had no idea it would see somewhat large distribution.
Even if Archery is "lame by today's standards", I found it to be quite a fun (though simple) game. I imagine it'd be worth playing with a friend, at least for a few matches.